Education
The ImaginationGYM® Methodology
ImaginationGYM® is a Methodology for the educational and emotional wellbeing development of children. It uses a combination of audio imagination exercises, activities and a methodology for using these resources. Much of the methodology is built into the design of the resources which will be more effective by following a few basic rules and principles. This information is delivered with the resources.
While ImaginationGYM can be used without training Professionals in education and childcare will gain even more from the methodology by taking part in specialist ImaginationGYM® Methodology training courses. These cover the theories behind ImaginationGYM® in more depth and provide practical advice and materials that can be used in their professional environment. Ongoing support is provided to all training attendees.
Please click on the following links to learn more about what the ImaginationGYM® Methodology delivers in terms of:
EMOTIONAL WELLBEING DEVELOPMENT
The Methodology has been in research and development over the last ten years. The first resource to be released is The Enchanted Forest and this available in the shopping section. Go to Shop. This is sufficient material to acquaint you with the Methodology. In some cases the Methodology may challenge your existing practices, so be patient with yourself as you develop new teaching or parenting habits. Other resources will be made available in due course, each building on what has gone before.
We would recommend that you start with The Enchanted Forest Pack.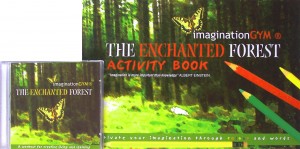 There are two types of training available; scheduled and bespoke. The former are listed in the training section of the website. The latter is where an organization approaches us to run a private training course for their group. Please click on bespoke training and consultancyfor more information.
Primarily ImaginationGYM® is used in mainstream education and the family home (often as a result of a school program). However it also has been successful in special needs education and early intervention programs. If you have any needs in these areas please contact us at info@imaginationgym.com and we will be happy to discuss your requirements further.